This page explains the app that allows you to easily view your applied for event tickets on your smartphone.
The EventRegist app for attendees is an app that allows EventRegist users to display tickets of events they have registered for on their smart phones. As an attendee you'll also have easy access tickets and event information.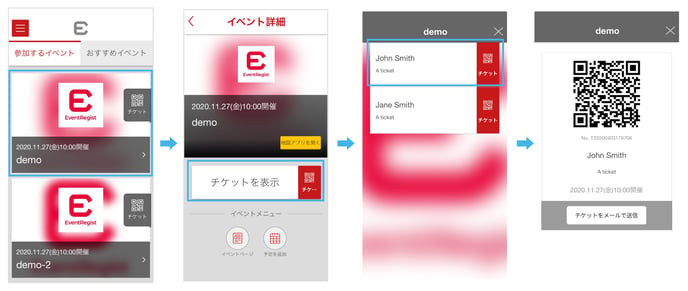 Although your PDF event ticket is sent by email, if you want to present your ticket on your phone, you can display a QR code on your phone and be admitted to the event.
★ Depending on the event, there may be a requirement to present a printed ticket. For more details, contact the event organizer directly.
Features Provided
Display the QR tickets for the events you registered for
Check a map of the event venue
Easily access the event page
Add event info to your own calendar
How to use
Download the app, login, and then select the event you plan to attend. To check-in and be admitted at the reception for the event, use the app to display a QR code ticket and be admitted smoothly into the event.

You can download them from the "My Tickets" page (depending on the settings by the event organizer, they may not be displayed).
---
If the above does not solve your problem, please contact us via the inquiry form.
(Our business hours are from 10:00am to 6:00pm Japan time on weekdays. For inquiries made on weekends and holidays, our response may be on the next business day.)