This page explains how to set up an inquiry page for event applicants and those who are interested in the event to contact the organizer.
Normally, inquiries to the event organizer will be sent to the contact information in the "Organizer information" section of the event announcement page, or via the contact form using the [Contact the event organizer] button at the bottom right of the event announcement page.
You can change the link of "Contact the event organizer" to your company's contact form, or add your own wording to guide the contact. You can also ask for permission for your company's privacy policy.


This is a paid function, so you will need to pay a separate fee to use it.
To set up an inquiry page, log in to EventRegist with your premium account, go to [My Events], select the event you would like to edit, and then click
[Set up an inquiry page] from the left side navigation menu of the event management screen.

Enter the information according to the setting format, and when you are done, click the [Preview] button to see the displayed image. If you are satisfied with the settings, click [Save] to complete the settings.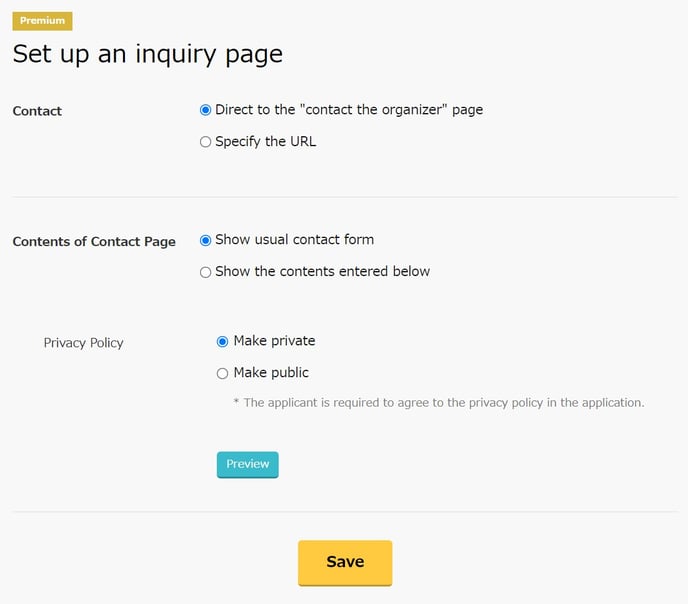 Contact

Direct to the "Contact the Organizer" page
Guidance for the contact form provided by EventRegist

Specify a URL
You can direct users to use your company's contact form.

Contents of Contact Page


These settings are only available if you've selected the [Direct to the "Contact the Organizer page] option.

Show usual contact form
Shows the default contact form provided by EventRegist.

Show the contents entered below
You can add an original paragraph explaining how to contact the organizer.

Privacy Policy
This setting is available only if you select [Direct to the "Contact the Organizer" page] and [Show usual contact form].
When set to [Make public], a setting field will appear to ask for your consent to the privacy policy.





▼ Usual Contact Form Display image
At the bottom, you will also see a box to agree to EventRegist privacy policy.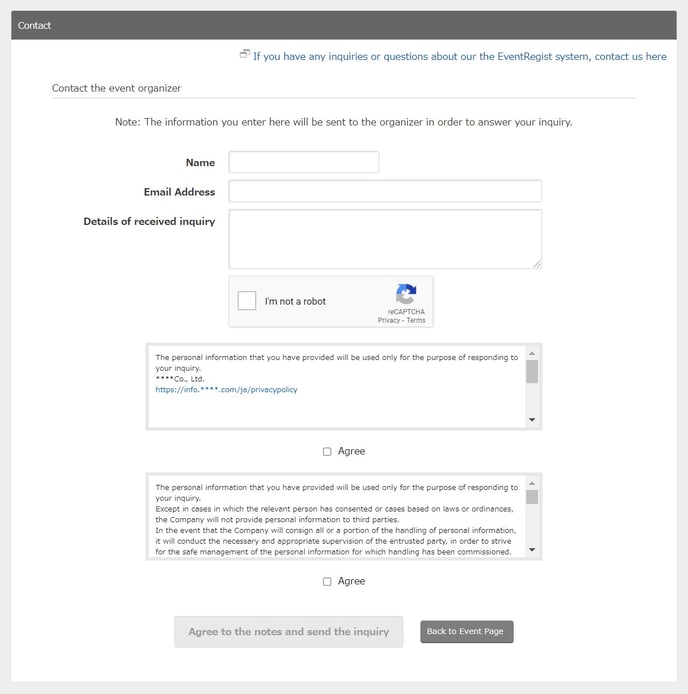 ▼ Customized Contact Form Display Image



---
If the above does not solve your problem, please contact us via the inquiry form.
(Our business hours are from 10:00am to 6:00pm Japan time on weekdays. For inquiries made on weekends and holidays, our response may be on the next business day.)