This page explains how to add a co-organizers/admin for an event and how to edit the permissions you grant.
It is possible to add or change event admin users. In order to add a new admin user, the user must have completed sign-up to EventRegist, so make sure they have completed sign-up before adding them as an event admin user.
This is a paid function, so you will need to pay a separate fee to use it.
To add or change an admin user, first login using your premium account, then click on "Multi-User Account Access" under the "Manage Event Information" menu on your event admin dashboard.
To add a new event admin user, click the "Add administrator" button.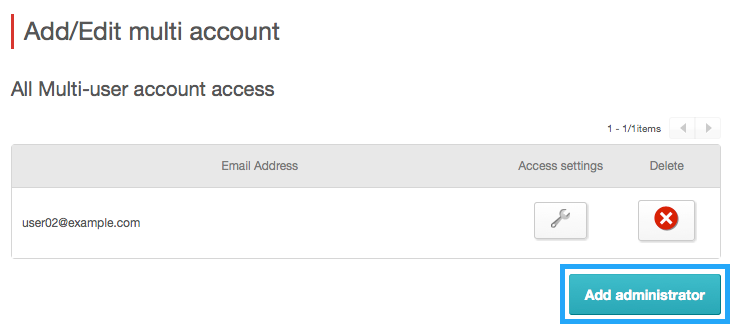 Fill out all the form fields and click the "Save" button.

Email address
Enter the email address of the admin user you'd like to add (the email address should be their EventRegist ID)
Notification message
This is the message sent to the new user when you add them as an admin user
Granting privileges
Select the privileges and roles that you would like the admin user to be able to perform. The new user will be able to perform all the roles that you grant to them
If you select "All privileges" then the admin user will have access to all admin functions including being able to change the bank account into which funds will be transferred.
---
If the above does not solve your problem, please contact us via the inquiry form.
(Our business hours are from 10:00am to 6:00pm Japan time on weekdays. For inquiries made on weekends and holidays, our response may be on the next business day.)