This page explains the "My Contacts" feature, which allows you to view all applicants and application history for the events you have created.
If there are registrants for an event that you have created, you will be able to see a list of these registrants on the "My Contacts" page.

Things you can do on My Contacts
On the My Contacts page you can view registrants for events that you have created up to now. You can also create a specific list and download it as a CSV file.

All registrants
The entire number of registrants from events that you have created will be displayed.
Request CSV Output
If you place a check in the check box, you can download the list as a CSV file.
Search the list for users
You can search the list being displayed for a particular keyword.
Refresh to latest data
You can refresh the contact list so it includes the latest information.
Displayed info
You can customize the columns that are displayed in the list
Create a List
From the list of all users, you can extract a list using specific criteria. If you click the "Create a List" button, a form allowing you to set a custom list will be displayed.

Once you set the list criteria, the custom list name that you registered is displayed and you can extract this list anytime you want.

CSV File Creation
If you place checks in the check boxes next to the registrants that you want to download then click on the "Create CSV Request" button to download a file in CSV format.
If you want to download data for all the registrants, click on the check box on the far left to add a check next to all the registrants.

Searching for users within the list
You can search for a specific key word within the currently displayed list.

Customizing the Display Items
You can customize the items/columns shown in the list. To customize the list, click on the "Display item(s)" button. The screen shown below will appear.
E.g. If you want to add the "gender" item and then display it after "name"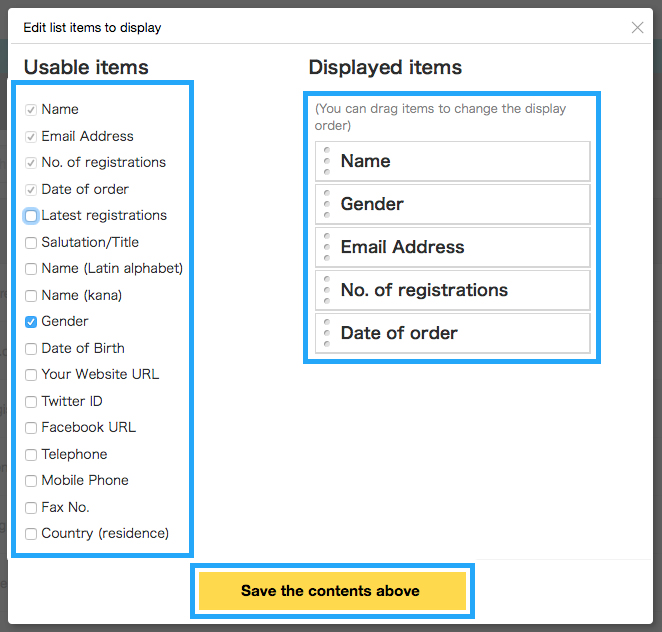 If you place a check next to the items you want to display in the "Usable Items" box, they will appear in the "Displayed Items" box. If you want to change the display order of the items, you can change this by dragging the items.
E.g. The following list is produced from the settings above

---
If the above does not solve your problem, please contact us via the inquiry form.
(Our business hours are from 10:00am to 6:00pm Japan time on weekdays. For inquiries made on weekends and holidays, our response may be on the next business day.)