This page explains KAOPASS, which allows you to check your entrance reception against a pre-registered profile picture.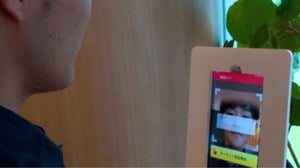 By registering the profile picture when applying for an event, the profile picture and the person's face are matched on the NEC-provided NeoFace Cloud(*1) on the day of the event, allowing visitors to check in at the reception desk (check-in) through face recognition.
The NeoFace AI engine provided by NEC, which boasts the world's No. 1(*2) authentication accuracy, can be used to create a new reception (check-in) experience.
This is a paid function, so you will need to pay a separate fee to use it.
If you are interested, please contact our sales staff or contact us using the "Inquiry about EventRegist" form.

Image of how to use KAOPASS
Advanced and innovative solutions for event visitor reception (check-in)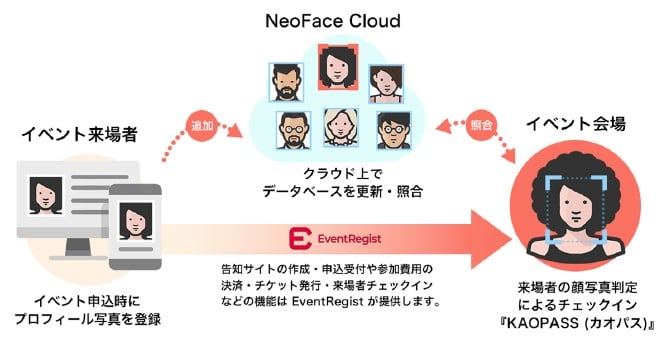 (*1) NEC's face recognition solution page
https://jpn.nec.com/solution/face-recognition/index.html
(*2) NEC wins first place in four consecutive National Institute of Standards and Technology(NIST)
benchmark tests for face recognition technology
http://jpn.nec.com/press/201703/20170316_01.html
 The results of the evaluation are not an endorsement of any particular product by the U.S. 
 government.

・NIST Face In Video Evaluation (FIVE) – 2017
Performance of Face Recognition on Non-Cooperative Subjects
http://nvlpubs.nist.gov/nistpubs/ir/2017/NIST.IR.8173.pdf
---

If you want to see how to configure the settings on the EventRegist management screen, please see "Learn more" below.
ID and Password are required to view this page.
[Learn more] How to set up KAOPASS and Check-in using KAOPASS