This page explains how to check the content of the inquiries sent by participants to the organizer.
When you create an event on EventRegist, a "Contact the Event Organizer" button will be displayed in the footer of the event page. People who want to contact the event organizer can do so via this form. The content of this inquiry is sent to the event organizer's email address and can also be viewed from the event admin dashboard.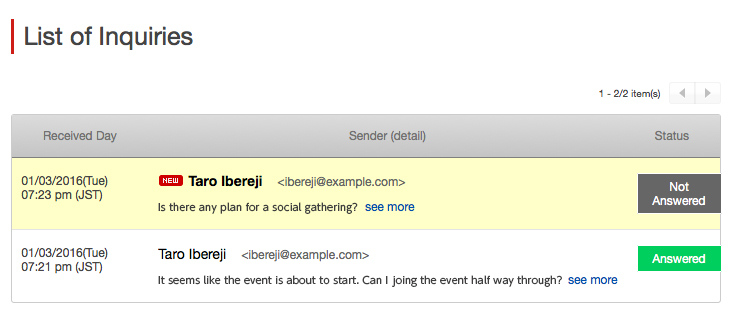 To see all the content of the inqury, click on "see more" next to the relevant inquiry.
How to reply to inquiries
You cannot reply to inquiries directly from the admin dashboard. To respond to an inquiry, you should use your own email client or software.

When you have responded, you can change the status of the inquiry by clicking the "Change Status to Answered" button.
---
If the above does not solve your problem, please contact us via the inquiry form.
(Our business hours are from 10:00am to 6:00pm Japan time on weekdays. For inquiries made on weekends and holidays, our response may be on the next business day.)