Learn about promotional codes that can be used for ticket discounts and secret tickets.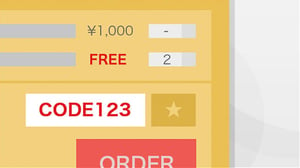 By issuing a promotional code, you can issue discounts on paid tickets and sell secret tickets (*1). It is not simply a function to offer discounts, but can also be used as a promotional to enhance ticket sales.
(*1) The tickets are not open to the public and can be applied for by applying a promotional code.
This is a paid function, so you will need to pay a separate fee to use it.
If you are interested, please contact our sales staff or contact us using the "Inquiry about EventRegist" form.
Usage scenario
If you are offering a special price for social networking sites or specific media outlets
If you want to invite a specific person to join you for free
If you would like to give an invitation code to a speaker or sponsor
If you would like to prepare a ticket for the press or other interested parties that is not available to the public
Features
Promotional codes can be issued as any string/random string/any string + random
You can set the conditions of use, such as a one-time code or a code that can be used as many times as you want
The validity period can be set.


---
If you want to see how to configure the settings on the EventRegist management screen, please see "Learn more" below.
ID and Password are required to view this page.