This page explains the "My Events" screen where you can see all the events you have created.
"My Events" is a page for managing event that you have created.
Once an event is created, "My Events" will appear at the top of the screen after login to EventRegist.


All the events that you have created to date are shown in the "My Events" listing.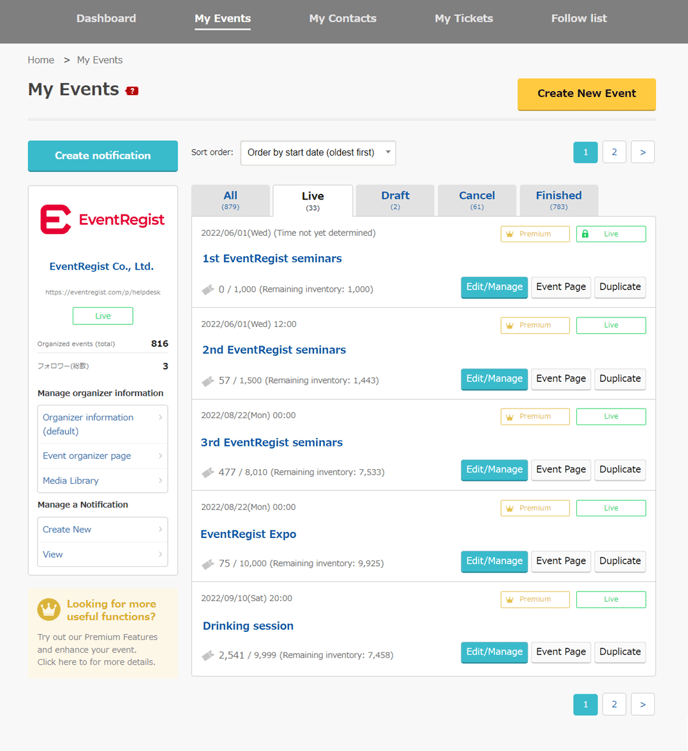 Above the event name, the date and time of the event will be displayed.
Below the event name, the number of ticket applications/total number of tickets (Remaining inventory) will be displayed.
The current status is displayed in the upper right corner of the event name.
Live
Events that are currently live.
Live(key symbol)
Currently live events that are password protected.
Draft
Events that are currently saved as a draft. They have not yet been published.
Canceled
This is an event that was cancelled after it was made public.
Finished
This is an event that has passed its date and time.
Under Examination
Due to your event being under investigation by EventRegist, your event is temporarily unavailable on the site.
Withdrawn
Due to our investigation of the content of your event, the event has been withdrawn from the site.

The following operations are available from each button located at the bottom right of the event name.
Edit/Manage
The event management screen will appear. You can edit the event page, add ticket information, manage participants, etc.
Event Page
The actual event page will open.

Duplicate
Create a copy of the event.

Preview
Draft events will show a preview of the event page.




---
If the above does not solve your problem, please contact us via the inquiry form.
(Our business hours are from 10:00am to 6:00pm Japan time on weekdays. For inquiries made on weekends and holidays, our response may be on the next business day.)