This page explains how to accept ticket requests from Convenience Store/ATM Payment.
By default, Credit Card (PayPal) are the payment method for paid tickets.
If you would like to use convenience store/ATM payment, please specify the payment method.

To use the convenience store / ATM payment function, you need to apply for the function separately. If you wish, please contact our sales staff or contact us using the inquiry form.
This is a paid function, so you will need to pay a separate fee to use it.
To set up the Convenience Store/ATM Payment, you must first register the organizer's bank account for transferring funds.
▶ Learn more:Add/Edit Banking Information

If you have already registered the bank account to which the transfer is to be made, you can use
After logging in with a premium account, go to "My Events" and select the appropriate event.
From the side menu of the event management screen, click "Ticket & Price Settings" > "Set Payment Options".

Check the "Convenience Store/ATM Payment" checkbox on the screen for setting up the payment method and click "Save".
Please note that you cannot check the box before registering your bank account. You will need to register your bank account first.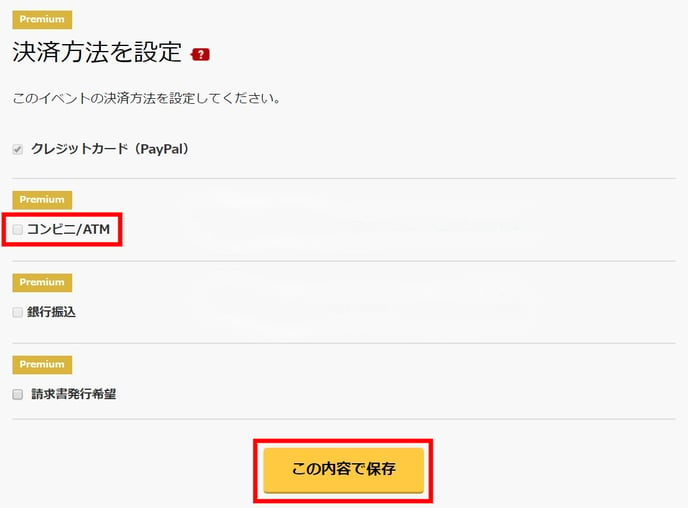 Points to note when using the Convenience Store/ATM Payment


Convenience Store/ATM Payment can be accepted up to 5 days before the end of the event.After that time, "Convenience Store/ATM Payment" will no longer appear in the payment options.
If payment is not received within 3 days of registration, the event will be automatically cancelled.Once automatically cancelled, a cancellation email will be sent to Applicant at 10:00 AM (Japan time) after the cancellation.
If the applicant pays for the ticket at a convenience store or ATM, the application for the event is confirmed. After that, the application cannot be cancelled from the system.
The organizer's fee for Convenience Store/ATM Payment is as follows per ticket.
*No fee will be charged to the ticket purchaser.


Settlement fee per transaction
Less than 3,000 yen: 200 yen, more than 3,000 yen: 8%.
The following pages explain how to accept tickets by bank transfer/invoicing.
▶ Learn more:[Premium] Setting Payment Methods ( Bank transfer / Request issuance of invoice)
---
If the above does not solve your problem, please contact us via the inquiry form.
(Our business hours are from 10:00am to 6:00pm Japan time on weekdays. For inquiries made on weekends and holidays, our response may be on the next business day.)