This page explains how to reissue your password if you have forgotten your login password to EventRegist.
If you have forgotten your EventRegist login password, you will need to reissue your password.

If you fail to enter your password several times, your account will be locked, but the password will be unlocked and you will be able to log in after you complete the password reissue process.

To reset your password, click on "Login" on the EventRegist home page and go to the "Login to EventRegist" page.
https://eventregist.com/login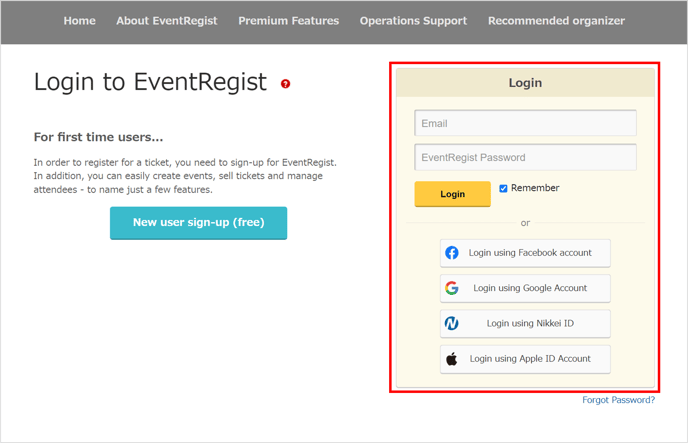 (1) On the "Log in to EventRegist" page, click on the "Forgot your password?" button below the box to enter your email address and password.

(2) The "Password Reset" screen will appear. Enter your email address that you have registered with EventRegist and click on the "Password Reset" button.

(3) An email with the subject line "[EventRegist] Your request for a new EventRegist password" will be sent to the email address you entered. Please click "Reset Password" in the email.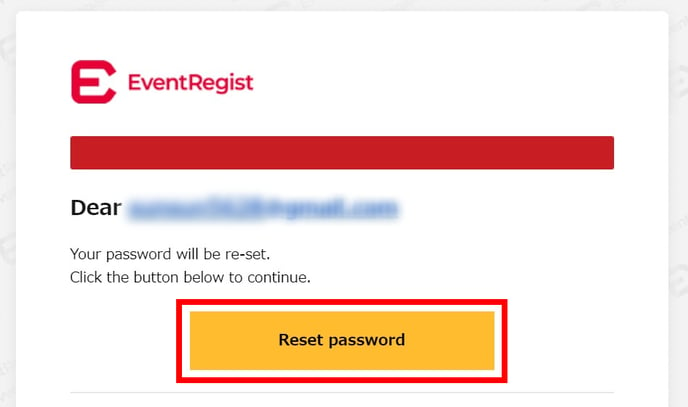 Note:
・If you use free e-mail, our e-mails may be automatically moved to your "junk mail folder". Please check your junk mail folder.
・You can also go to the "Password Reset" page at the following URL.
 If you are logged out of EventRegist, click on the URL below.
▶ Click here for Password Reset

(4) Enter the new password in the "Password Reset" screen, and enter the same one in the "re-enter" box below.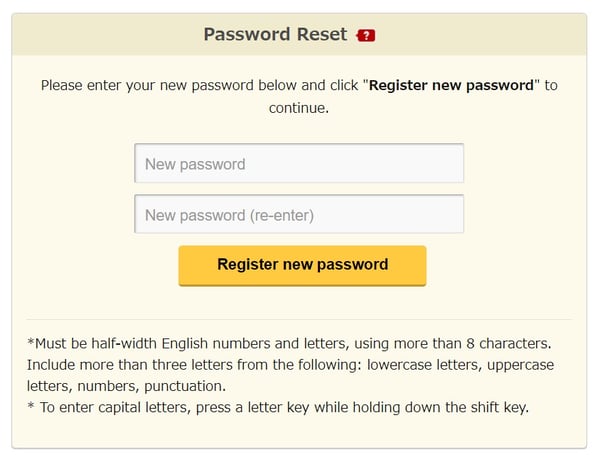 *Must be half-width English numbers and letters, using more than 8 characters. Include more than three letters from the following: lowercase letters, uppercase letters, numbers, punctuation.
* To enter capital letters, press a letter key while holding down the shift key.

(5) If you click "Register new password" and you are automatically transferred to the login screen, your password has been reissued. Make sure that you can log in with your login ID (email address) and new password.
Cases of error:
If the login screen does not appear when you click "Register new password" and an error message appears, the characters in the upper and lower passwords may be different.
Please check the notes on the screen and re-enter your password.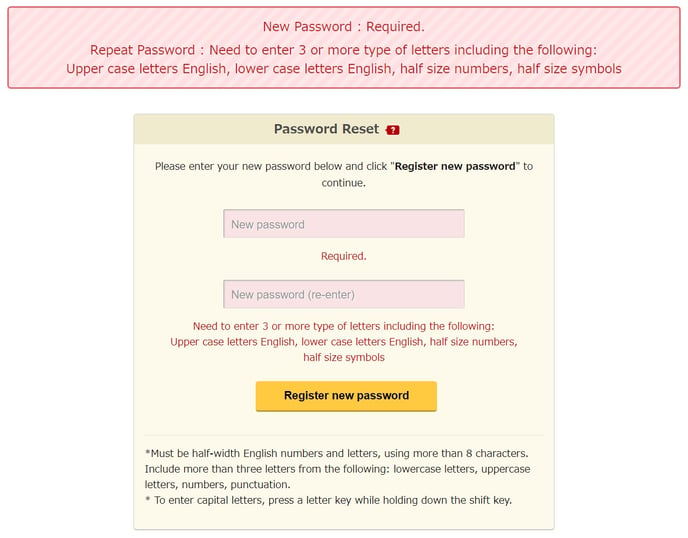 For reasons of protecting the privacy of users the passwords of all users are stored in an encrypted format, so even if you contact EventRegist asking for your password, we will be unable to tell it to you. Therefore, please follow the password reset procedure explained above.
---
If the above does not solve your problem, please contact us via the inquiry form.
(Our business hours are from 10:00am to 6:00pm Japan time on weekdays. For inquiries made on weekends and holidays, our response may be on the next business day.)