This page explains how to register on the check-in app for organizers and how to register outside of the app.
When you use EventRegist, you can check attendees in using a smartphone app or one of several other methods.
Contents)
Tickets issued by EventRegist
---

1) Tickets issued by EventRegist
When a user applies for a ticket on an event page created with EventRegist, that user immediately receives an application confirmation email. The PDF attached to that email is the ticket. By displaying the QR code of the ticket on the applicant's smartphone screen and reading it at the time of reception, the response time can be shortened and smooth reception operation can be realized.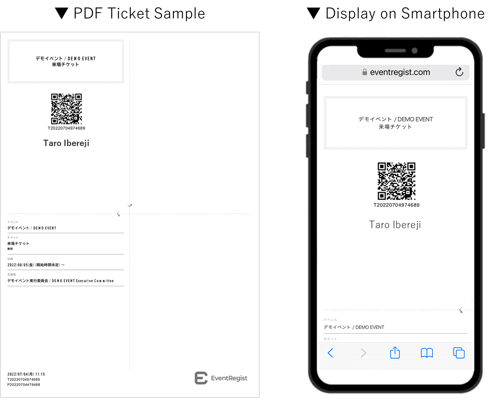 These tickets have QR codes printed on them. If you scan this code, the time to admit each person is greatly reduced and it's possible to admit attendees to the event smoothly (the standard PDF ticket size is A6, so if the A4 sheet is folded in half twice, it can be inserted into a conference lanyard.

2) Using the Smartphone App
With EventRegist, organizers can download a free app for checking in (admitting) guests to the event.





We can use this app to scan the ticket QR code. To scan a single QR code, takes about 2 to 3 seconds.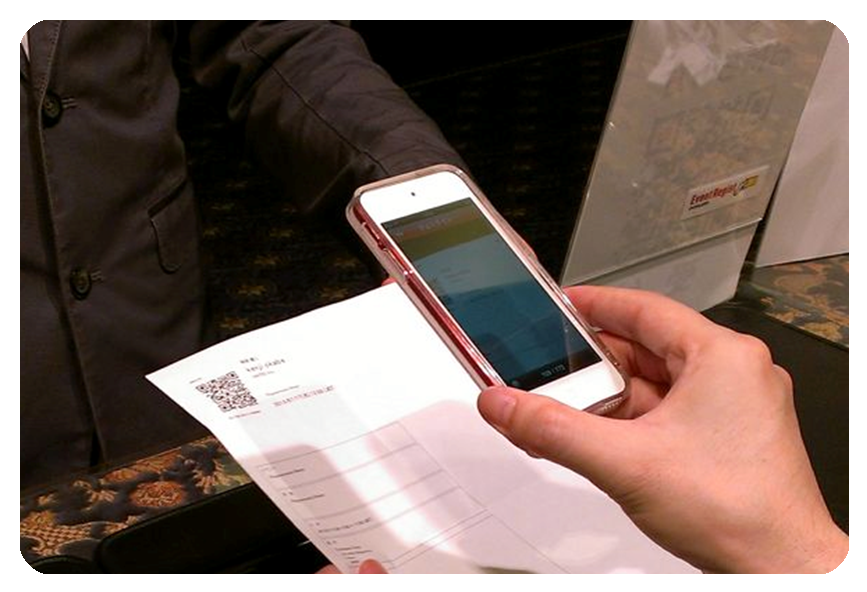 By scanning a QR code, the exact time that an attendee came to the event can be recorded. Also, if the app is online, the current number of people in attendance can be checked. From the EventRegist admin dashboard, you can get a final idea of who came to the event by downloading the check-in data.
You can also use the "check-in from list" feature of the check-in app to search for a attendee's name and ticket number and manually check in the attendee to make sure they are already checked in.
▶ Learn more : How to use the check-in app (simplified version)
▶ A manual on how to use the check-in app can be downloaded here.

3) Using the Admin Dashboard
From the EventRegist admin dashboard, there is a function to search for the attendee by name and then check them in. You can search by either name or email address and then manually check them in.
If you prepare a computer for those who forgot their ticket in conjunction with the check-in smartphone app, you will have check-in management covered for everyone who pre-registered for the event.
▶ Learn more : Managing Check-in Status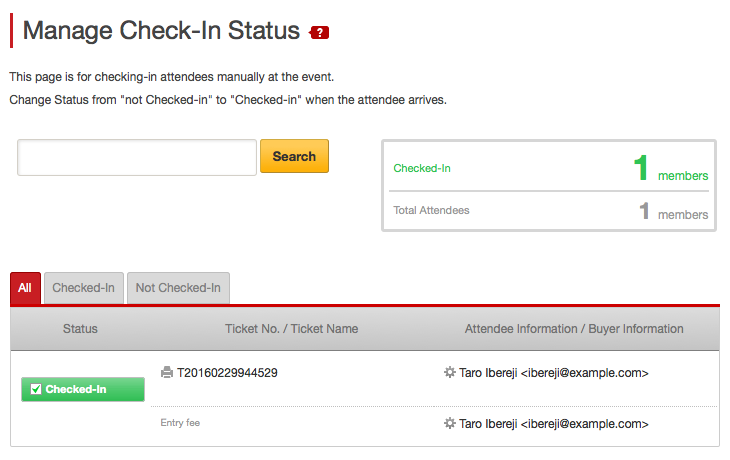 4) Outputting a List
When it's an event with a small number of people or it's not possible to prepare a smartphone, you can admit people by outputting an attendee list. This can be done easily from the EventRegist admin dashboard by outputting an attendee list as a CSV file.
▶ Learn more : Download Check-in List
---
If the above does not solve your problem, please contact us via the inquiry form.
(Our business hours are from 10:00am to 6:00pm Japan time on weekdays. For inquiries made on weekends and holidays, our response may be on the next business day.)